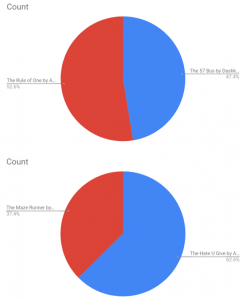 We have made it to the championship round.  With just over 17,000 votes cast, for our original 32 books, the final four proved to be a tough round.
The Rule of One by Ashley and Leslie Saunders narrowly beat our inaugural champion, The 57 Bus by Dashka Slater.  Not too surprisingly, The Hate U Give by Angie Thomas dominated The Maze Runner by James Dashner.  All of our Final Four books are well worth the read.  Follow the links provided to read a summary or stop by our library @eaglestafflib (on Twitter or Instagram).
Our Championship round is now underway.  Don't forget to vote between The Hate U Give and The Rule of One!  Voting is open until Friday afternoon, April 5, 2019.  Our Champion will be announced Monday morning, April 8, 2019.